Modularkuljettimet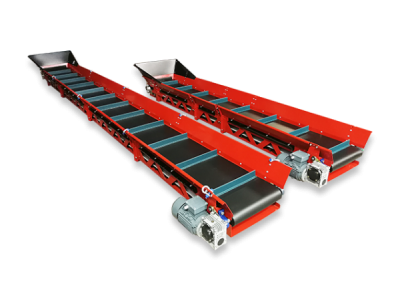 Conveyors can be adapted to your own infrastructure.
The drive of belt conveyors are electric induction motors with a worm gear. By means of shackles, the conveyor can be hung on the sling.
Modular belt conveyors with electric drive are used for transporting small and medium sized materials. All belt conveyors are equipped with a belt with 5 cm high carriers.
Technical parameters P25-250:
Working length of the belt conveyor: 250 cm
Working width of the belt conveyor: 25 cm
Measurement height: 5 cm
Spacing of carriers: every 38 cm
Height 17 cm
The power of the induction motor 0.55 kW
400V 3-phase power supply
Working range horizontal and inclined position (max 45 °)
Technical parameters P40-250:
Working length of the belt conveyor: 250 cm
Working width of the belt conveyor: 40 cm
Measurement height: 5 cm
Spacing of carriers: every 38 cm
Height 17 cm
The power of the induction motor 0.55 kW
400V 3-phase power supply
Working range horizontal and inclined position (max 45 °)
Technical parameters P25-370:
Working length of the belt conveyor: 370 cm
Working width of the belt conveyor: 25 cm
Measurement height: 5 cm
Spacing of carriers: every 38 cm
Height 17 cm
The power of the induction motor 0.55 kW
400V 3-phase power supply
Working range horizontal and inclined position (max 45 °)
Technical parameters P40-370:
Working length of the belt conveyor: 370 cm
Working width of the belt conveyor: 40 cm
Measurement height: 5 cm
Spacing of carriers: every 38 cm
Height 17 cm
The power of the induction motor 1.1 kW
400V 3-phase power supply
Working range horizontal and inclined position (max 45 °)
Technical parameters P25-500:
Working length of the belt conveyor: 500 cm
Working width of the belt conveyor: 25 cm
Measurement height: 5 cm
Spacing of carriers: every 38 cm
Height 17 cm
The power of the induction motor 1.1 kW
400V 3-phase power supply
Working range horizontal and inclined position (max 45 °)
Technical parameters P40-500:
Working length of the belt conveyor: 500 cm
Working width of the belt conveyor: 40 cm
Measurement height: 5 cm
Spacing of carriers: every 38 cm
Height 17 cm
The power of the induction motor 1.1 kW
400V 3-phase power supply
Working range horizontal and inclined position (max 45 °)